New Forum Software Has Been Deployed! If You Have Any Issues With Logging In, Please Reset Your Password, Or Contact
[email protected]
Power Rangers review: The Forces of Evil - Villains "New"
On August 28, 1993, two astronauts opened Rita Repulsa's Space Dumpster and began the adventures of the Power Rangers. We've come a long way since then. Many villains came and tried to conquer the world. Let's review.... the VILLAINS.
(minions included)
There are pictures, small details, and videos (provided by Youtube user "Humanoid Ranger") to go with the villains.
Here are the detail info:
Power Rangers - Boss name (true identity or identity acknowledgment) {primary boss, primary villain, etc / how they are}
[what they are], [group name], [final fate]
[Appeared only in team-up]
Power Rangers - Minions' name
(ranking, obviously "minions"), [what they are], [who they serve]
MMPR – Lord ZEDD {primary boss/villain/leader}
[alien], [no group name, United Alliance of Evil], [purified to good by Zordon Wave]
MMPR – RITA REPULSA {primary villain/boss: by orders,under leadership}
[alien], [no group name, United Alliance of Evil], [purified to good by Zordon Wave, later became the Mystic Mother]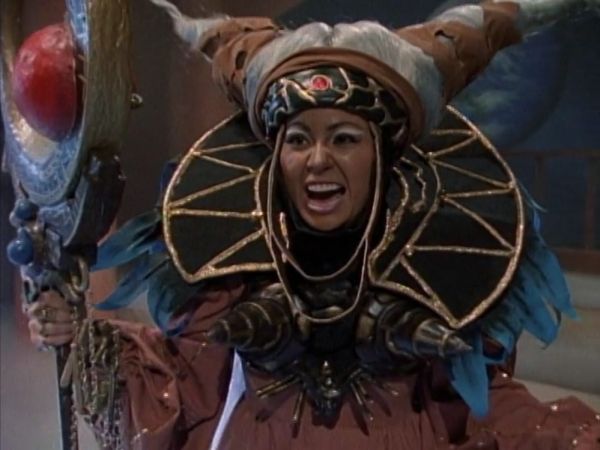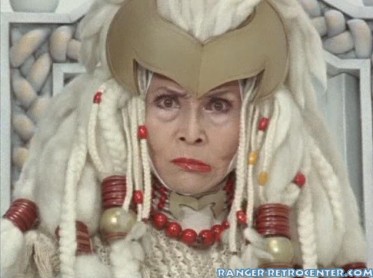 MMPR – GOLDAR aka GOLDAR MAXIMUS
[alien], [no group name, United Alliance of Evil], [destroyed by Zordon Wave; destroyed by ]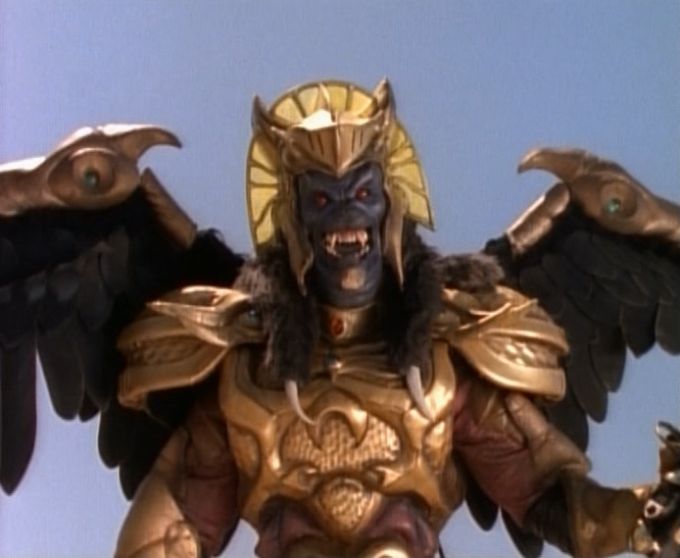 MMPR – FINSTER
[alien], [no group name, United Alliance of Evil], [destroyed by Zordon Wave]
MMPR – SQUATT
[alien], [no group name, United Alliance of Evil], [destroyed by Zordon Wave]
MMPR – BABOO
[alien], [no group name, United Alliance of Evil], [destroyed by Zordon Wave]
MMPR – SCORPINA
[alien], [no group name], [Final Fate: unknown; possibly purified or destroyed by Zordon Wave]
MMPR – LOKAR
[alien], [no group name], [Final Fate: Unknown, possibly dormant or destroyed by Zordon Wave]
MMPR – RITO REVOLTO
[alien], [no group name], [Final Fate: unknown; possibly destroyed by Zordon Wave or purified to good by Zordon Wave]
MMPR – Master VILE {secondary villain/boss: experience}
[alien], [no group name, United Alliance of Evil], [Final Fate: unknown; most likely destroyed by Zordon Wave]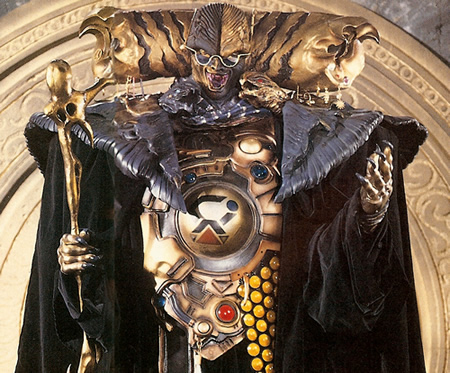 MMPR - Putty Patrollers
(minions), [alien monster made out of clay], [Rita Repulsa]
MMPR - Skeleton Warriors
(minions), [alien monsters], [Rita Repulsa's monster Bones]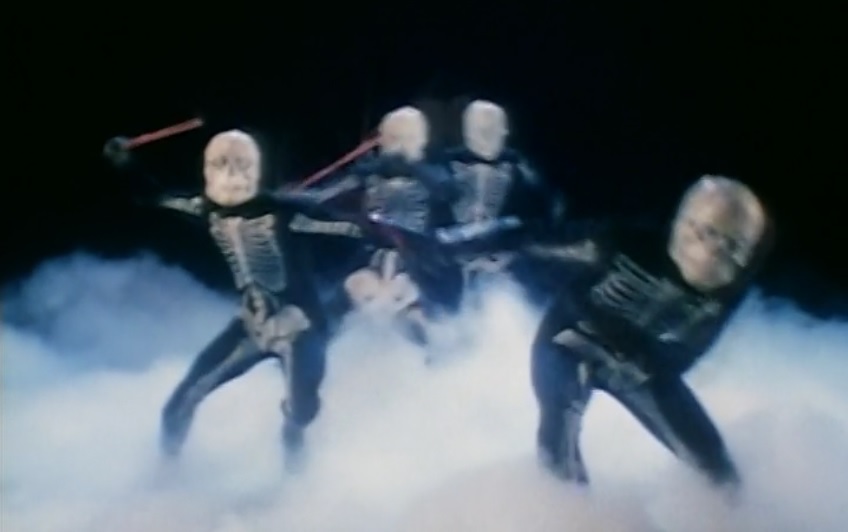 MMPR - Super Putty Patrollers
(minions), [alien monster made out of clay], [Rita Repulsa]
MMPR - Z Putty Patrollers
(minions), [alien monsters, possibly made out of clay]. [Lord Zedd]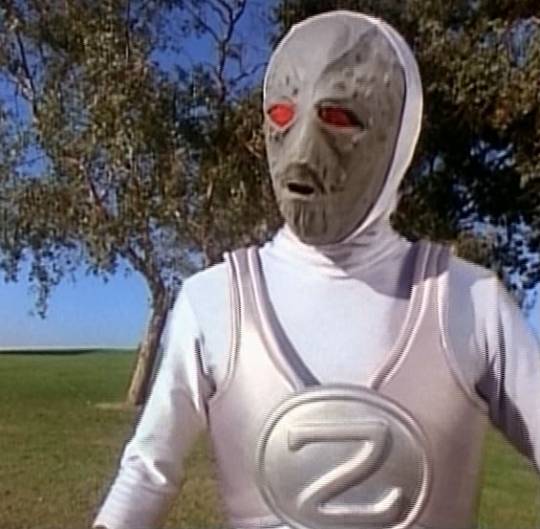 MMPR - Tenga warriors
(minions), [aliens], [whoever owns them at the time of hatching]
MMPR/MMAR – HYDRO HOG {minor villain/boss: experience}
[alien], [no group name], [destroyed by MMAR]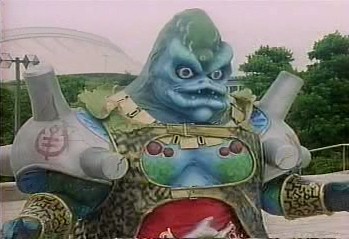 PRZ – King MONDO {primary boss/villain/leader}
[robot], ["Royal House of Gadgetry"/"Machine Empire", United Alliance of Evil], [destroyed by Zordon Wave]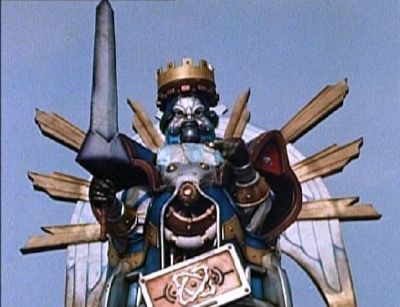 PRZ – Queen MACHINA
[robot], ["Royal House of Gadgetry"/"Machine Empire", United Alliance of Evil], [destroyed by Zordon Wave]
PRZ – Prince SPROCKET
[robot], ["Royal House of Gadgetry"/"Machine Empire", United Alliance of Evil], [destroyed by Zordon Wave]
PRZ – KLANK
[robot], [Machine Empire, United Alliance of Evil], [destroyed by Zordon Wave]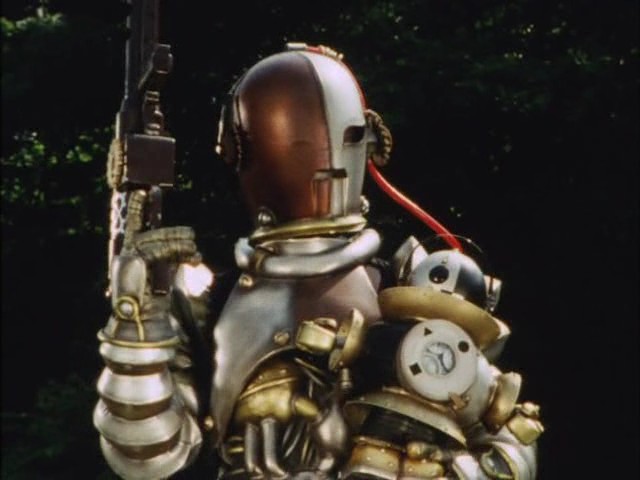 PRZ – ORBUS
[robot], [Machine Empire, United Alliance of Evil], [destroyed by Zordon Wave]
PRZ – LOUIE KABOOM {secondary villain/boss: through takeover}
[robot], [no group name], [put under love spell by Archerina, destroyed by PRZ]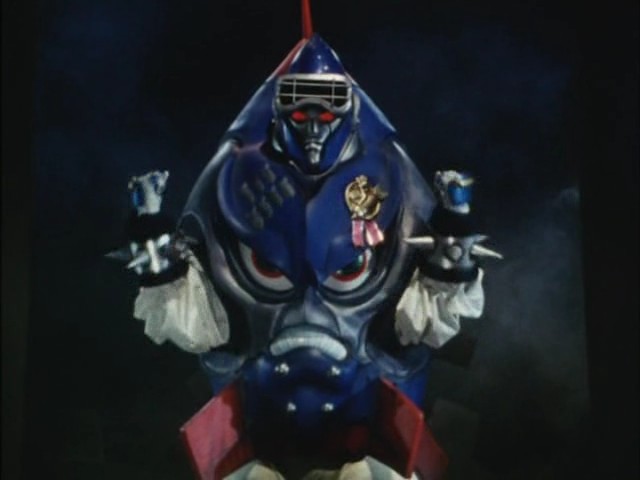 PRZ – Prince GASKET {tertiary villain/boss #1: willing offer, co-leader}
[robot], [no group name], [Final Fate: unknown; most likely destroyed by Zordon Wave]
PRZ – Princess ARCHERINA {tertiary villain/boss #2: through marriage, willing offer, co-leader}
[robot], [no group name], [Final Fate: unknown; most likely destroyed by Zordon Wave]
PRZ - Cogs
(minions), [automated robots] [Royal House of Gadgetry, Machine Empire]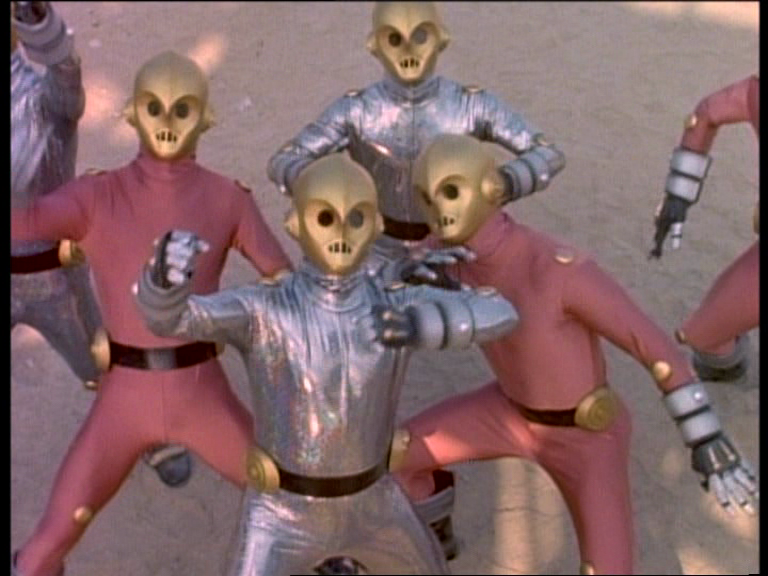 PRT – DIVATOX {primary boss/villain/leader}
[alien], [no group name, United Alliance of Evil], [turned good by Zordon Wave]
PRT – RYGOG
[alien], [no group name, United Alliance of Evil], [destroyed by Zordon Wave]
PRT – ELGAR
[alien], [no group name, United Alliance of Evil] [destroyed by Zordon Wave]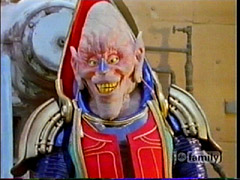 PRT – PORTO
[alien], [no group name, United Alliance of Evil], [destroyed by Zordon Wave]
PRT – MALIGOR the great flame of destruction {minor villain/boss: experience}
[unknown], [no group name], [destroyed by PRT]
PRT – General HAVOC
[alien], [no group name, United Alliance of Evil], [destroyed by Zordon Wave]
PRT – MAMA D {minor villain/boss: experience}
[alien], [no group name], [Final Fate: Unknown; either destroyed by Zordon Wave or purified to good]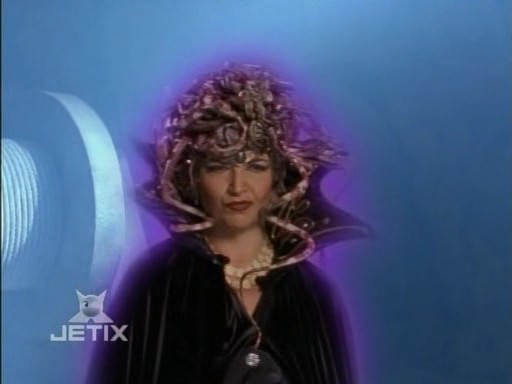 PRT - Piranhatrons
(minions), [unknown, possibly alien robots], [Divatox]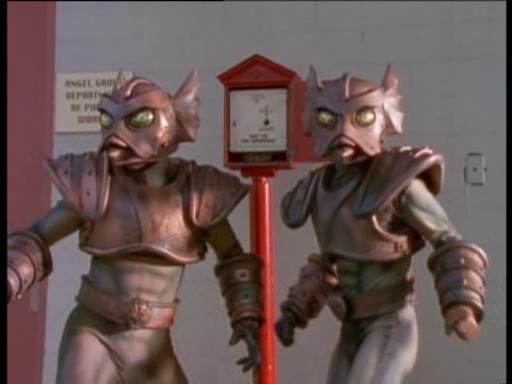 PRT - Putra Pods
(minions), [unknown, possibly alien mutants], [Divatox]
PRT - Havoc's Robot Warriors
(minions), [alien robots]; [General Havoc]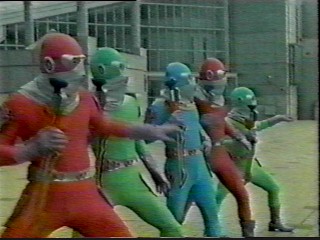 PRT – U.A.E messenger
[alien], [United Alliance of Evil], [Final Fate: Unknown, possibly dormant or destroyed by Zordon Wave]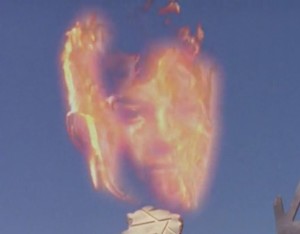 PRIS – DARK/SPECTOR the monarch of evil {primary boss/villain/leader}
[unknown], [United Alliance of Evil], [destroyed by Darkonda]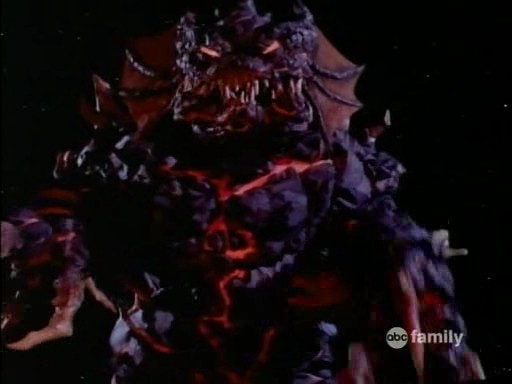 PRIS – ASTRONEMA (KARONE) {primary villain/boss: by orders, under leadership}
[space human], [United Alliance of Evil], [turned good, brainwashed, restored to good, later became a Power Ranger]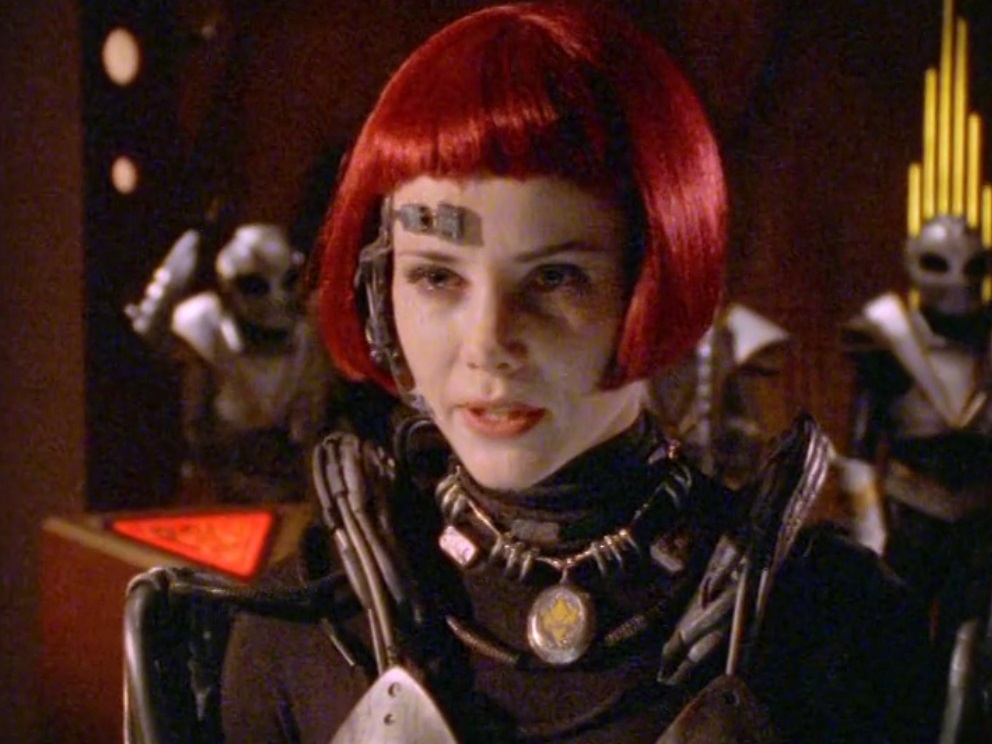 PRIS – ECLIPTOR
[unknown, created being], [United Alliance of Evil], [was possibly turning good, brainwashed, destroyed by Zordon Wave]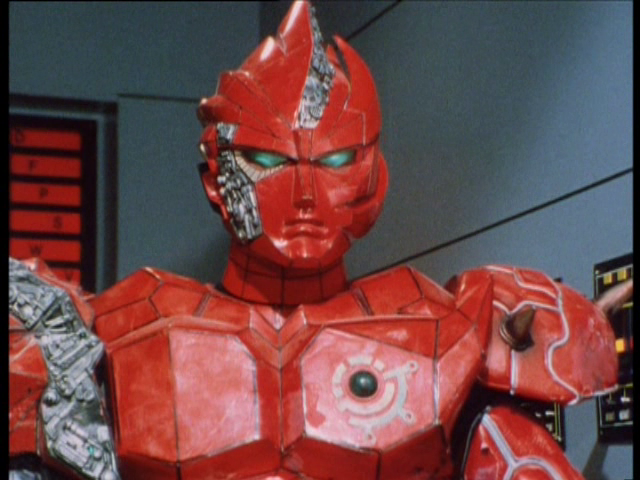 PRIS – DARKONDA/DARKLIPTOR {secondary villain/boss: stand-alone, deception}
[alien], [no group name], [lost 8 of his 9 lives, then was devoured by Dark Spector]
PRIS – RED PSYCHO RANGER {tertiary villain/boss #1}
[mutant/alien robot], [Psycho Rangers], [contained in data cards, later destroyed by PRLG and PRIS]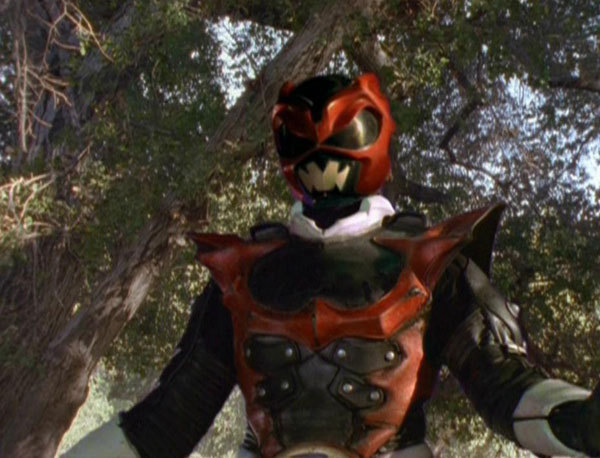 PRIS – BLACK PSYCHO RANGER {tertiary villain/boss #2}
[mutant/alien robot], [Psycho Rangers], [contained in data cards, later destroyed by PRLG and PRIS]
PRIS – BLUE PSYCHO RANGER {tertiary villain/boss #3}
[mutant/alien robot], [Psycho Rangers], [contained in data cards, later destroyed by PRLG and PRIS]
PRIS – YELLOW PSYCHO RANGER {tertiary villain/boss #4}
[mutant/alien robot], [Psycho Rangers], [contained in data cards, later destroyed by PRLG and PRIS]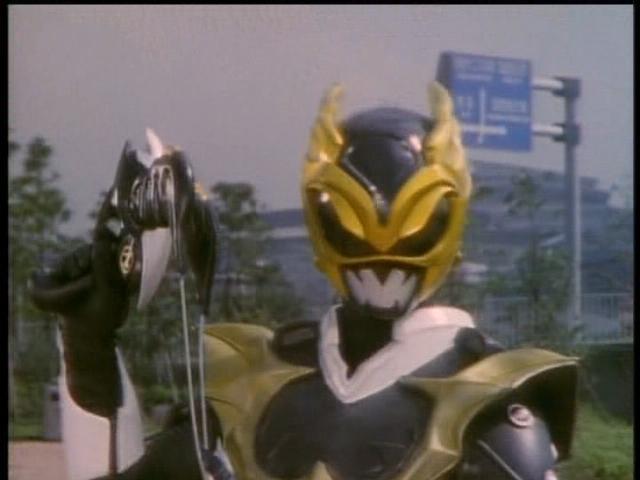 PRIS – PINK PSYCHO RANGER {tertiary villain/boss #5}
[mutant/alien robot], [Psycho Rangers], [contained in data cards, later destroyed by PRLG and PRIS]
PRIS - Quantrons
(minions), [alien robots], [Dark Spector, United Alliance of Evil]
PRIS – Craterite leader {minor villain/boss: programming}
[holographic simulation avatar], [Craterites], [destroyed by PRIS]
PRIS - Craterites
(holographic simulation minions), [holographic creatures brought to real life], [no master]
PRLG – SCORPIUS {primary boss/villain/leader #1}
[alien insect], [no group name], [destroyed by PRLG]
PRLG – TRAKEENA {primary boss/villain/leader #2}
[alien insect], [no group name], [forcefully fused with Deviot, defeated by PRLG, later destroyed by PRLR and PRLG]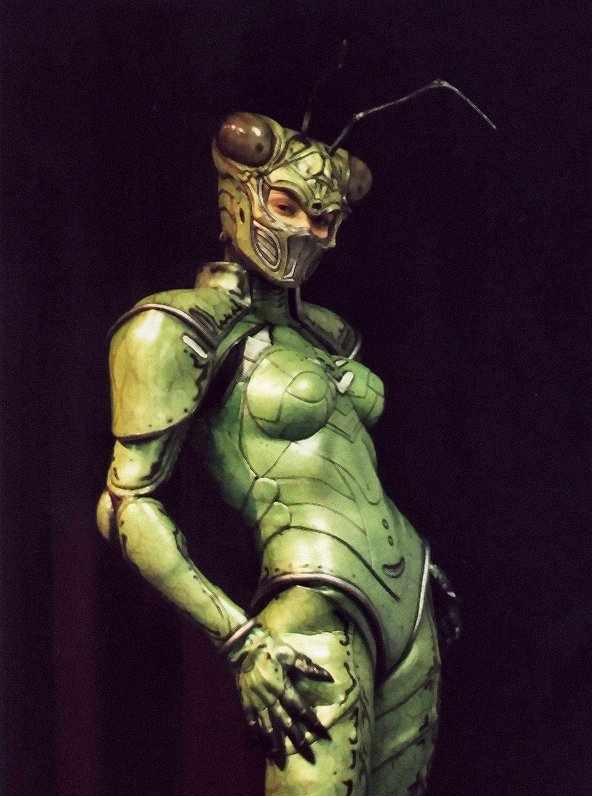 PRLG – FURIO
[alien], [no group name], [self-destructed]
PRLG – TREACHERON
[alien], [no group name], [destroyed by PRLG]
PRLG – DEVIOT {secondary villain/boss: stand-alone, deception}
[alien cyborg], [no group name], [forcefully fused with Trakeena and lost consciousness, whatever is left of him is destroyed when PRLR and PRLG destroy Trakeena]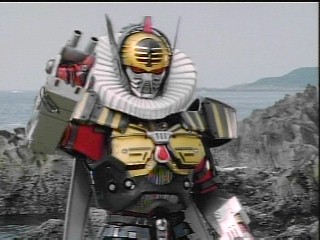 PRLG – VILLAMAX
[alien], [no group name], [chose honor over evil, destroyed by Trakeena for that]
PRLG – KEGLAR
[alien], [no group name], [died when the Scorpion Stinger crashed on a moon]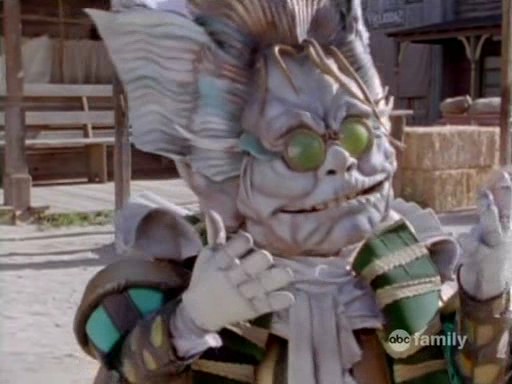 PRLG - Sting Wingers
(minions), [alien insectoids], [Scorpious and Trakeena]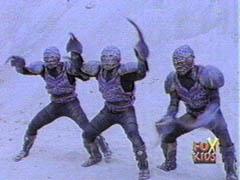 PRLG – Captain MUTINY {tertiary villain/boss: through experience}
[alien], [no group name], [destroyed by Trakeena when she destroyed his castle]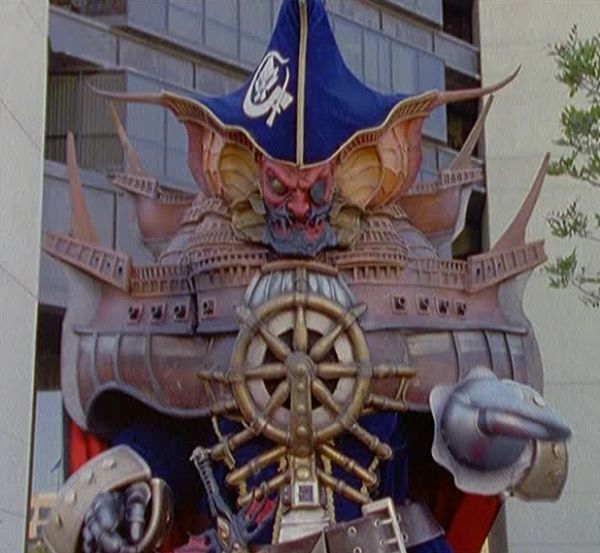 PRLG – BARBARAX
[alien], [no group name], [destroyed by Trakeena when she destroyed Captain Mutiny's castle]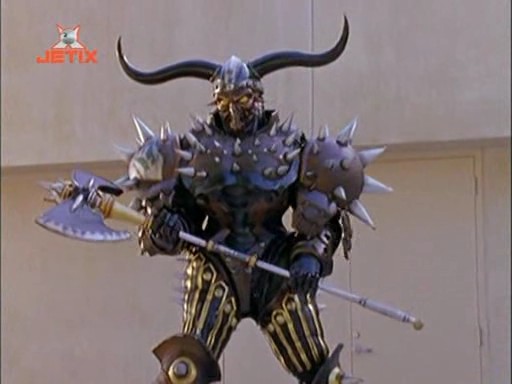 PRLG - HEXUBA
[alien], [no group name], [destroyed by PRLG]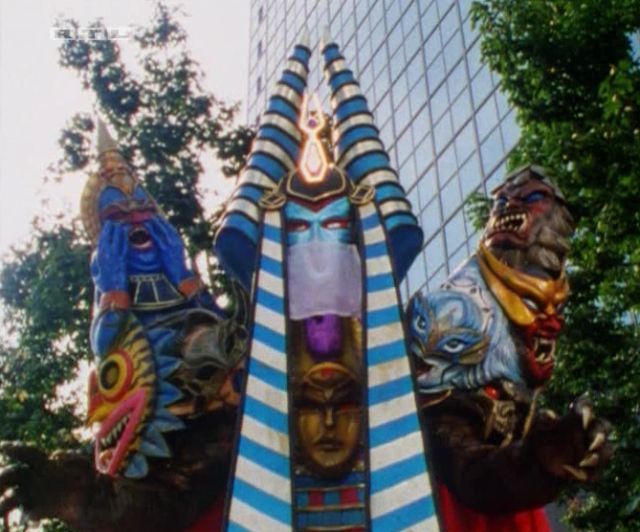 PRLG - Swabbies
(minions), [unknown], [Captain Mutiny]
PRLR – Queen BANSHEERA {primary boss/villain/leader}
[demon], [no group name], [imprisoned in the Shadow World by PRLR and Diabolico]
PRLR – DIABOLICO {primary villain/boss: by orders, under leadership}
[demon], [no group name], [destroyed by PRLR while under Queen Bansheera's control]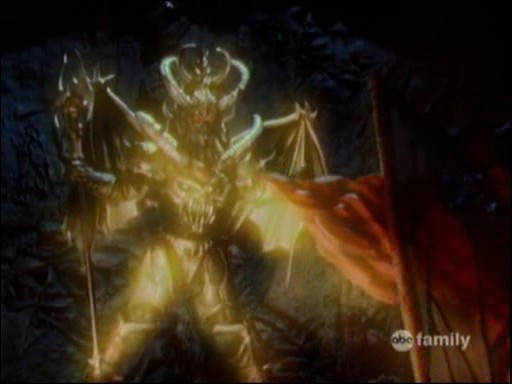 PRLR – LOKI
[demon], [no group name], [destroyed by Queen Bansheera while she was using Diabolico]
PRLR – VYPRA
[demon], [no group name], [absorbed by Queen Bansheera, later destroyed by PRTF and PRLR]
PRLR – JINXER
[demon],[no group name], [was inside the Omega Megazord when it was destroyed and didn't survive the explosion]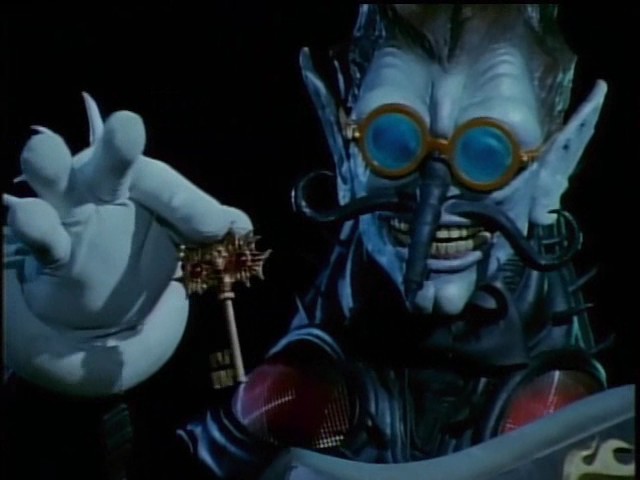 PRLR – IMPUS aka OLYMPIUS
[demon], [no group name], [was destroyed by PRLR]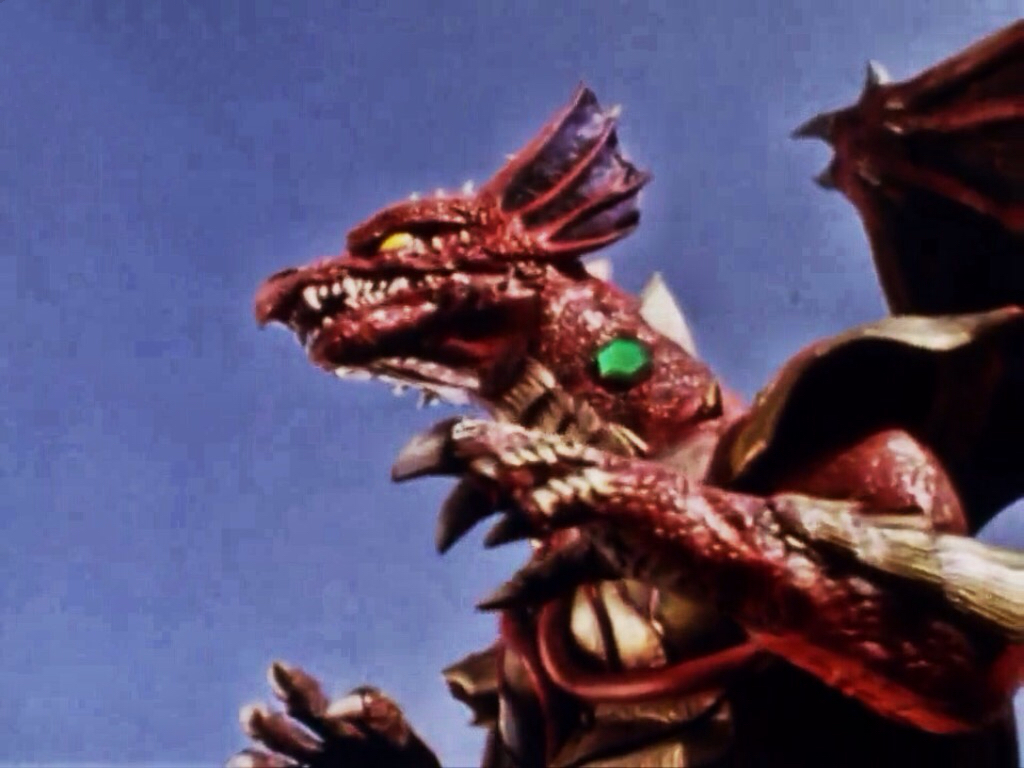 PRLR - Batlings
(minions), [bat-like demons], [Queen Bansheera]
PRLR - TRISKULL
[demon], [no group name], [destroyed by PRLR and PRLG]
[PRLR-PRLG Team-Up]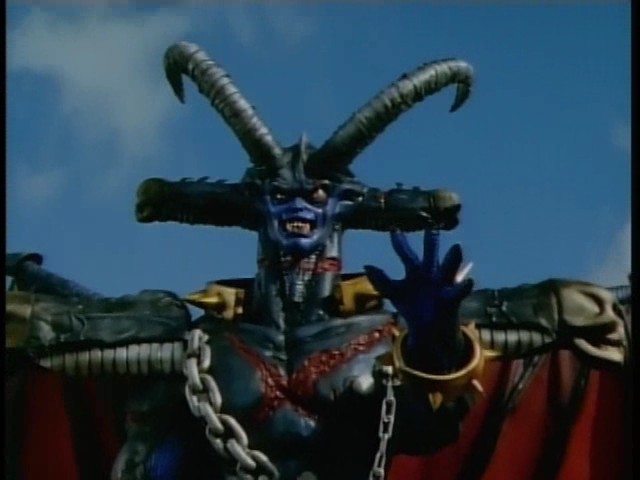 PRLR - Ghouls
(minions), [ghouls, possibly alien in nature], [Trakeena and Triskull]
PRTF – RANSIK {primary boss/villain/leader}
[mutant], [no group name], [turned good, later turned human after being in an explosion with the Mut-Orgs]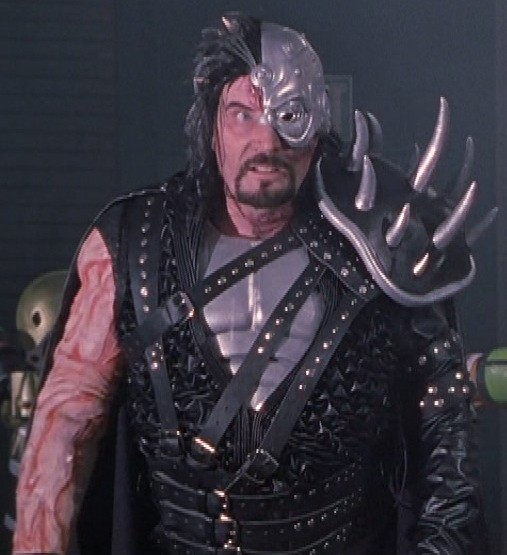 PRTF – NADIRA
[mutant], [no group name], [turned good]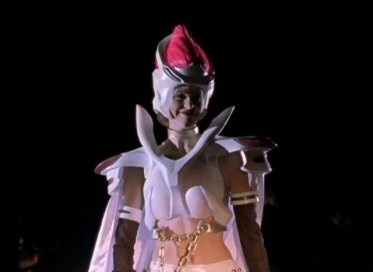 PRTF – GLUTO
[mutant], [no group name], [chickened out and used the reanimator to chrono-freeze himself]
PRTF – FRAX (Dr. LOUIS FERICKS) {secondary villain/boss: standalone, deception}
[human cyborg], [no group name], [possibly turned good, reprogrammed by Ransik, defeated by PRTF, fell apart from damage]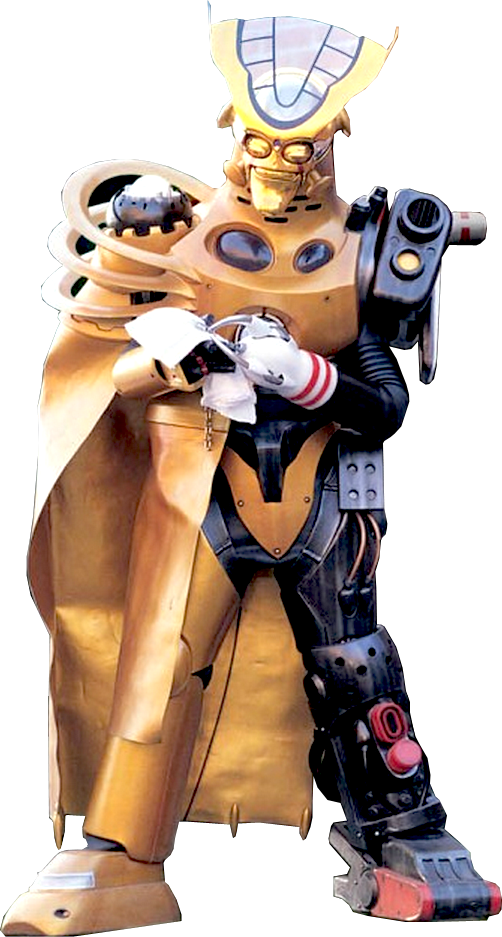 PRTF - Cyclobots
(minions), [man-made robots] [Ransik and Frax (depending on who built them)]
PRTF – The BLACK KNIGHT {minor villain/boss: experience}
[unknown], [no group name], [destroyed by PRTF]
PRTF – QUARGENOG
[super demon], [Demons], [destroyed by PRTF and PRLR]
[PRTF/PRLR Team-Up]
PRTF - Vypra's Soldiers
(minions), [undead monsters], [Vypra]
PRWF – MASTER ORG (Dr. VIKTOR ADLER) {primary boss/villain/leader #1: taking the original master's power, secret takeover}
[half-human half-org], [Duke Org], [his soul becomes merged with the original Master Org's essence, destroyed by PRWF]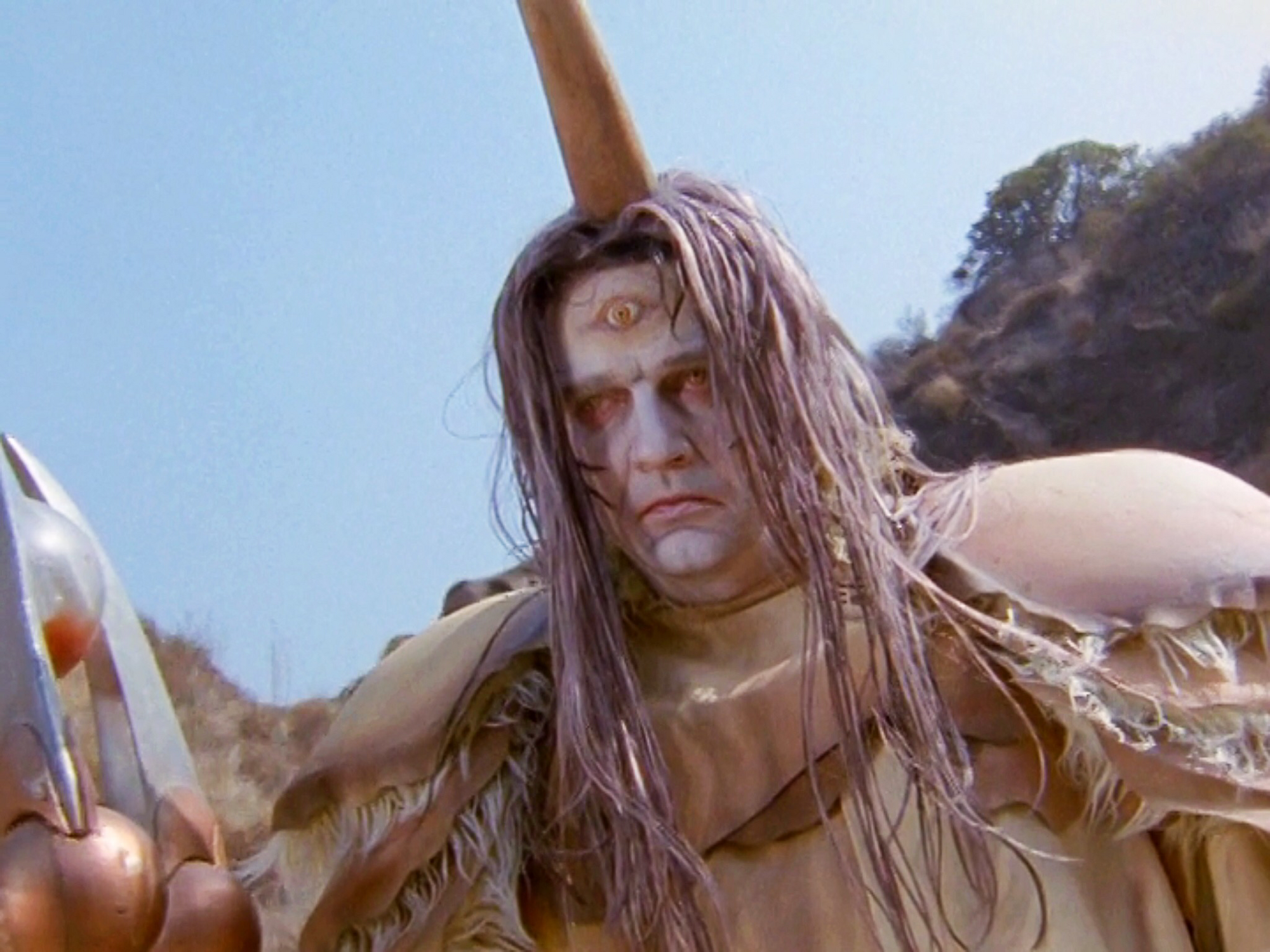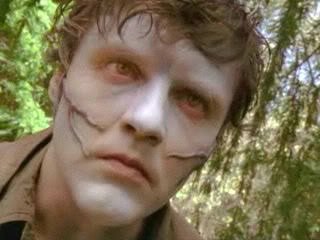 PRWF – JINDRAX
[Org], [Duke Org], [turned good]
PRWF – TOXICA aka NECRONOMICA
[Org], [Duke Org], [turned good]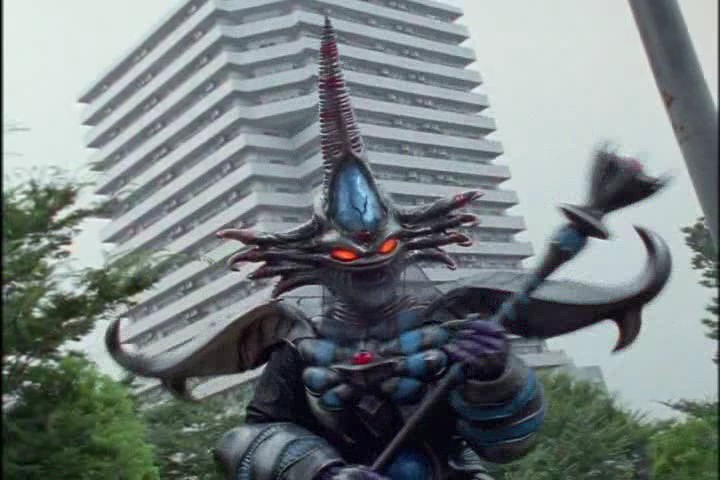 PRWF – ZEN-AKU
[org spirit in mask], [Duke Org], [turned good]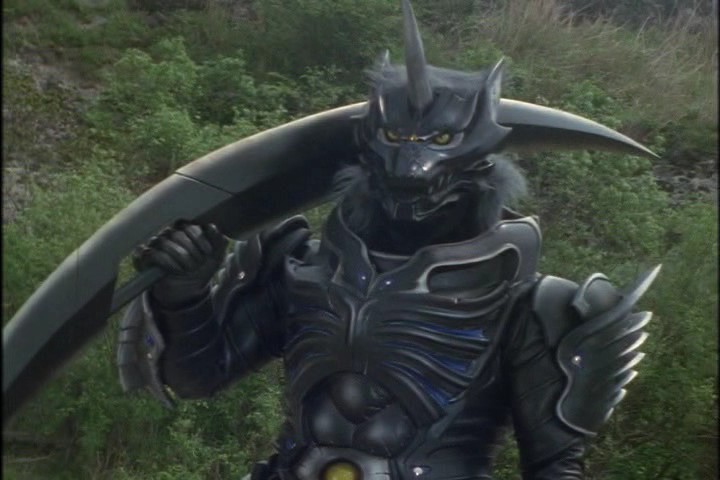 PRWF - RETINAXE the bodyguard
[Org], [General Orgs], [destroyed by PRWF]
PRWF - General NAYZOR
[Org], General Orgs], [destroyed by PRWF]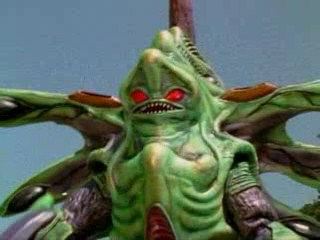 PRWF – General MANDILOK {secondary villain/boss: takeover}
[Org], [General Org], [destroyed by PRWF]
PRWF – The MASTER ORG (original aka ancient Master Org) {primary boss/villain/leader #00}
[Org], [Duke Org], [destroyed by Merrick 3000 years prior to series, his essence becomes merged with the modern-day Master Org's soul, his essence is destroyed for good when PRWF destroys the modern-day Master Org]
(sketch of the Super Sentai counterpart of ancient Master Org's final form)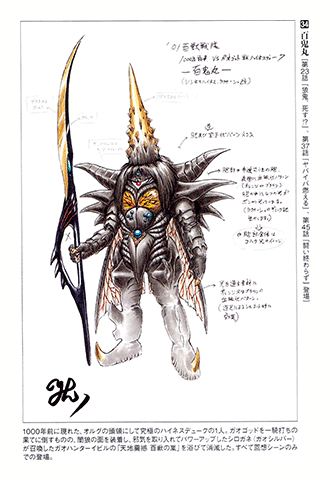 PRWF – ROFANG
[Mutant/Org], [Mut-Orgs], [destroyed by PRWF and PRTF]
[PRWF-PRTF Team-Up]
PRWF – TAKACH
[Mutant/Org], [Mut-Orgs], [destroyed by PRWF and PRTF]
[PRWF-PRTF Team-Up]
PRWF – KIRED
[Mutant/Org], [Mut-Orgs], [destroyed by PRWF and PRTF]
[PRWF-PRTF Team-Up]
PRWF - Putrids
(minions), [Orgs], [Master Org, the Orgs]
PRWF – General VENJIX {minor villain/boss #1: ranking, co-leader}
[robot], [Machine Empire], [was inside Serpenterra when it was destroyed and didn't survive the explosion]
[Forever Red Team-Up]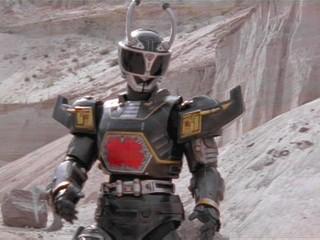 PRWF - AUTOMON {minor villain/boss #2: ranking, co-leader}
[robot], [Machine Empire], [destroyed by Forever Red Ranger team]
[Forever Red Team-Up]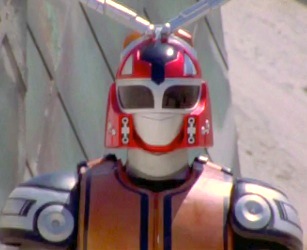 PRWF - GERROK {minor villain/boss #3: ranking, co-leader}
[robot], [Machine Empire], [destroyed by Forever Red Ranger team]
[Forever Red Team-Up]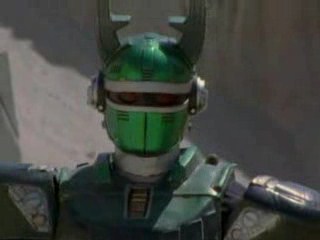 PRWF - STEELON {minor villain/boss #4: ranking, co-leader}
[robot], [Machine Empire], [destroyed by Forever Red Ranger team]
[Forever Red Team-Up]
PRWF - TEZZLA {minor villain/boss #5: ranking, co-leader}
[robot], [Machine Empire], [destroyed by Forever Red Ranger team]
[Forever Red Team-Up]