New Forum Software Has Been Deployed! If You Have Any Issues With Logging In, Please Reset Your Password, Or Contact
[email protected]
Power Rangers HyperForce - Power Rangers role-playing game - series episodes
Power Rangers HyperForce
is an interactive live-streamed tabletop role-playing game web series from Saban Brands and Hyper RPG loosely based on the long-running American children's television program Power Rangers. It launched as part of the franchise's 25th anniversary.
The show premiered on October 24, 2017 on Hyper RPG's Twitch.tv live-streaming channel and includes members of the Power Rangers franchise along with other internet personalities. It is hosted by Malika Lim. Power Rangers Hyperforce is published on Hyper RPG's Twitch.tv live-streaming channel and YouTube channel.
Rangers from past seasons of Power Rangers will guest star occasionally, including Erin Cahill (of Power Rangers Time Force).
Hyper RPG developed a Twitch extension that will allow viewers of the show to select a Ranger from the show and tie that Ranger to their unique ID. They'll then be able to send the Ranger on daily missions, boss battles, and raids, and a trading mechanic is also being implemented for sharing loot. To put it simply: during the stream, viewers will be able to play with the cast as well.
Cast:
Peter Sudarso as Marvin "Marv" Shih, the Hyperforce Red Ranger. Peter Sudarso portrays Preston Tien, the Ninja Steel Blue Ranger on Power Rangers Ninja Steel.
Andre Meadows as Edward "Eddie" Banks, the Hyperforce Blue Ranger. Andre Meadows is the creator and host of the Youtube web series known as Black Nerd Comedy.
Paul Schrier as Jack Dealgoode Thomas, the Hyperforce Yellow Ranger. Jack is the most experienced of the team, as he was a beat cop as opposed to the others who are all cadets. Paul Schrier formerly portrayed Farkas "Bulk" Bulkmeier throughout the Power Rangers franchise starting with Mighty Morphin Power Rangers.
Meghan Camarena as Chloe Ashford, the Hyperforce Pink Ranger. Meghan Camarena is known as social media personality, Strawburry17.
Cristina Vee as Vesper Leigh Vasquez, the Hyperforce Black Ranger. Cristina is known as an actress and social media personality.
Malika Lim as the Game Master. She acts as organizer, officiant regarding rules, arbitrator, and moderator. She also portrays all non-player characters.
HyperRPG on Twitch.tv
HyperRPG on Youtube
https://www.youtube.com/channel/UCRDPlyuTAus79rPdFERMS5A
Sources of info:
http://powerrangers.wikia.com/wiki/Power_Rangers_Hyper_Force
https://en.wikipedia.org/wiki/Power_Rangers_Hyperforce
POWER RANGERS HYPERFORCE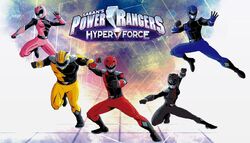 In the year 3017, all appears well as Time Force no longer has to face Ransik after his escape back in 3000, and their sending the Q-Rex Zord through time in the year 3013 to help the Megaforce Rangers' fight against the Armada. The Time Force Academy continues to train new recruits to continue serving and protecting the people and the timestream. Unfortunately, a group called "The Alliance" has emerged with plans to do evil. The Alliance is led by an ancient evil who is set on unraveling the very fabric of the universe. Four new Time Force cadets (Marvin "Marv" Shih, Edward "Eddie" Banks, Jack Dealgoode Thomas, Chloe Ashford, Vesper Leigh Vasquez) and Time Force beat officer Jack Dealgoode Thomas must band together to defeat this new force of evil. Under the leadership of their mentor, Jen Scotts (Time Force Pink Ranger), and with the show's Game Master (Malika Lim), the newly minted Rangers will cross both time and space to complete their mission while running into many familiar eras, and faces, along the way. Together, they'll save time, space, and the universe as Power Rangers HyperForce.