New Forum Software Has Been Deployed! If You Have Any Issues With Logging In, Please Reset Your Password, Or Contact
[email protected]
Please Visit
This Thread
For Important Infomation Regarding Upcoming Changes!
Power Rangers - Other Power Rangers outside of Earth and our own dimension.
I knew it! I knew there were more Power Rangers than the ones we've seen in 20 years. Here's the proof.
Back in PRDT, Tommy said that Mighty Morphin Power Rangers were "Earth's first team of Power Rangers". Gosei said that they unlocked modes that have never been seen before "on this planet". It means there are or were other Power Rangers and different planets amd other dimensions.
This also means that all those Super Sentai teams could be used as Power Rangers when the Ranger War happens (which also means they can use that Gokaiger footage of the Legend War in Power Rangers if they want to).
Say hello to the other Power Ranger teams that are or were around (or possibly "are or were around") "outside of Earth and our own dimesion"
Super Sentai name: Himitsu Sentai Goranger
Super Sentai name: J.A.K.Q. Dengekitai
Super Sentai name: Battle Fever J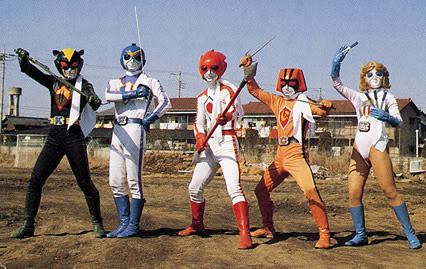 Super Sentai name: Denshi Sentai Denjiman
Super Sentai name: Taiyo Sentai Sun Vulcan
Super Sentai name: Dai Sentai Goggle Five
Super Sentai name: Kagaku Sentai Dynaman
Super Sentai name: Choudenshi Bioman
Super Sentai name: Dengeki Sentai Changeman
Super Sentai name: Choushinsei Flashman
Super Sentai name: Hikari Sentai Maskman
Super Sentai name: Choujuu Sentai Liveman
Super Sentai name: Kousoku Sentai Turboranger
Super Sentai name: Chikyu Sentai Fiveman
Super Sentai name: Chojin Sentai Jetman
Super Sentai name: Gosei Sentai Dairanger